Erika Boulavsky MSW, LCSWA, serves as the Community Outreach Specialist for HD Reach. Erika is responsible for helping to build relationships and education within the medical community as well as assisting HD families navigate supportive resources. Erika has a BA in Sociology from Costal Carolina University and a Masters of Social Work from the University of South Carolina. She is originally from Myrtle Beach, SC and began her journey as a social worker for her local hospice agency in 2017. She moved to Raleigh, NC in 2020 and continued to work with the hospice population until starting with HD reach in July 2022. She and her partner have family members affected by HD and have been long time volunteers within HDSA youth programs, HDYO camps, and speakers at the HDSA convention. Erika and her partner enjoy relaxing with their two dogs, spending time with family and friends, and traveling as much as they can.

Mary C. Edmondson, MD is the Founder of HD Reach and Chair of the Medical Advisory Board. She has been involved in the care for Huntington's Disease for most of her life. After graduating from the University of North Carolina at Chapel Hill School of Medicine and following residency and fellowship training in Internal Medicine at the University of Cincinnati Medical Center, she joined the faculty of the UNC School of medicine AHEC program. In 2002 she completed a second residency in Psychiatry at Duke University. While in residence at Duke she established a genetic testing program for individuals at risk for HD and participated in the care of HD patients in the Movement Disorders Clinic. Board Certified in both Internal Medicine and Psychiatry, she is uniquely experienced in managing the psychiatric, behavioral, and medical complications of HD.
After her father lost his battle with Huntington's Disease in 1995, Dr. Edmondson personally underwent genetic testing. Although fortunate to have tested negative for the gene, her experience with her family's illness continues to provide a unique perspective on the care of HD.

Dr. Bonnie Hennig-Trestman has over 30 years of expertise providing and guiding clinical services to patients and family members suffering from neurodegenerative, physical, and psychiatric illnesses. She received her Bachelor of Arts and her Master of Social Work from Boston University and her Doctorate of Social Work from Capella University. She is an Assistant Professor at Virginia Tech Carilion School of Medicine in the Department of Basic Science Education and the Director of the Carilion Clinic Huntington's Disease Program in Roanoke, Virginia. She has over two decades of experience working with people who are impacted by Huntington's Disease.
Dr. Hennig-Trestman is the president and owner of HTA Consulting, PLLC where she provides on-line tele-therapy to patients and their families in Connecticut, North Carolina, and Virginia. In 2018, Dr. Hennig-Trestman was awarded a seed grant from the Huntington's Study Group to research attitudes and obstacles parents perceive when discussing Huntington's Disease with their children. In 2003 Dr. Hennig-Trestman wrote a book called, "Talking to Kids About HD". It has been translated into multiple languages and was revised in 2018. Dr. Hennig-Trestman has provided educational lectures to national and international audiences. Dr. Hennig-Trestman is a member of the Huntington Study Group (HSG) and the European HD Network (EHDN) and serves on the Board of Directors as the Research Co-Chair for Huntington's Disease Youth Organization (HDYO).
Dr. Hennig-Trestman was born and raised in the Northeast but now lives in Roanoke, Virginia. She and her husband, Dr. Robert Trestman, have five adult children. Dr. Hennig-Trestman volunteers as a docent at the Taubman Museum in Roanoke, Virginia. She enjoys cooking and traveling. She is also an elite level fencer and has represented the United States as a member of multiple World Veteran Fencing Championship teams. 

Dr. Kathryn Moore is a board-certified neurologist who specializes in seeing patients with movement disorders at Duke University in Durham, NC. She completed a 2-year fellowship training under the mentorship of Dr. Michael Okun and Dr. Christopher Hess at the Norman Fixel Institute for Neurological Diseases at the University of Florida. Prior to this, she completed neurology residency at UNC Health and the University of North Carolina Chapel Hill, where she also served as chief resident. She is an award-winning clinician and educator. Dr. Moore's current research focus includes expanding access to subspecialty neurological care to people with advanced movement disorders who find coming to clinic challenging by providing in-home care and telemedicine. She is committed to supportive care of her patients.

Dr. Burton L. Scott, MD, PhD, Professor of Neurology at Duke University is a member of the Duke Movement Disorders Clinic.  After the completion of his residency at Duke University and fellowship training in movement disorders at Baylor College of Medicine, he joined the Duke faculty in 1995. Over his career, he has been very active in the care of HD patients and their families.  He was instrumental in creating an opportunity to obtain Tetrabenazine for HD patients as the Principal Investigator of the clinical study "Compassionate Use of Tetrabenazine in Hyperkinetic Movement Disorders". He has many years of experience in the use of this complicated drug, currently one of two FDA approved drugs for the treatment of the chorea associated with Huntington's Disease. He has been very active in Parkinson's Disease research and clinical care over his career. Recently, he has chosen to expand his work with HD patients and families and recruited many professionals to work in a dedicated Huntington's Disease clinic.

Dr. Myriam Sollman, PhD is a clinical neuropsychologist who specializes in movement disorders and dementia.  In her work, Dr. Sollman helps patients & family to understand one's strengths and weaknesses, and to identify ways to improve daily life.  In the HD community, Dr. Sollman provides assessment and education services to both preclinical and clinically manifesting individuals. Dr. Sollman received her training at the University of Kentucky, the University of Florida, and the Barrow Neurological Institute.   She began her career here in NC at the Wake Forest School of Medicine, where she helped build the neuropsychology program.  She is now Associate Professor at the University of SC School of Medicine. 

Lisa Hale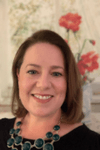 Katherine Sherry, LCSW
Dr. Claudia Testa