On April 6, 2019, HD Reach hosted the 2019 North Carolina Huntington's Disease Statewide Education Day, "Looking Back, Reaching Forward" in Raleigh at the McKimmon Conference and Training Center (NC State University, 1101 Gorman Street, Raleigh, NC  27606).
At the North Carolina HD Education Day, attendees learned more about living life well with HD from some outstanding speakers and local North Carolina HD experts.  There were breakout sessions for everyone in the HD community, from those living with HD, those at-risk for the disease, HD caregivers as well as youth. This years educational day will be packed with practical information.
Click on the image below to see the full program.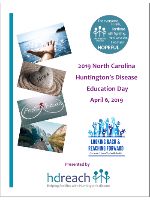 ---
Recorded Presentations
---
Welcome and Introductions
Ann Lassiter
Looking Back Over the Last 10 Years - With a Special Message from Charles Sabine
Dr. Mary Edmondson  & Dr. Don Lo
A Hope Filled Future - Latest and Greatest in Clinical Research
Dr. Miroslav Cuturic & Dr. Francis Walker
The Future - A Young Adult's Perspective
Darcey Hawkins & Casey Herrington
---
Providing Care of Every Stage of HD (Caregivers panel)
---
Partnering With Your Therapists - OT, PT, & Speech (Caregivers panel)
---
Links to Slide Presentations
---
Link to our Facebook site to see more photos from the 2019 Education Day.
---
---
Our 2019 Sponsors
Champion Level
Supporter Level
Friend Level