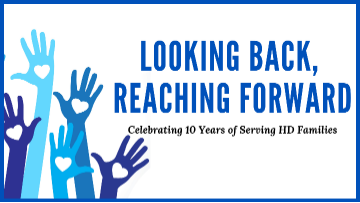 On April 6, 2019, HD Reach will host the 2019 North Carolina Huntington's Disease Statewide Education Day, "Looking Back, Reaching Forward" in Raleigh at the McKimmon Conference and Training Center (NC State University, 1101 Gorman Street, Raleigh, NC  27606).
At the North Carolina HD Education Day, attendees will learn more about living life well with HD from some outstanding speakers and local North Carolina HD experts.  There will also be breakout sessions for everyone in the HD community, from those living with HD, those at-risk for the disease, HD caregivers as well as youth. This years educational day will be packed with practical information.
Click here to register for the event
Click on the link below to see the agenda.

In need of financial support to get to the Education Day? HD Reach will sponsor families to attend, fill out the application and get it submitted to us by March 15th and we will get back to you if you've been awarded any sponsorships!
Would you like to be a sponsor or exhibitor at our Education Day?
---
Our 2019 Sponsors
Champion Level
Supporter Level
Friend Level