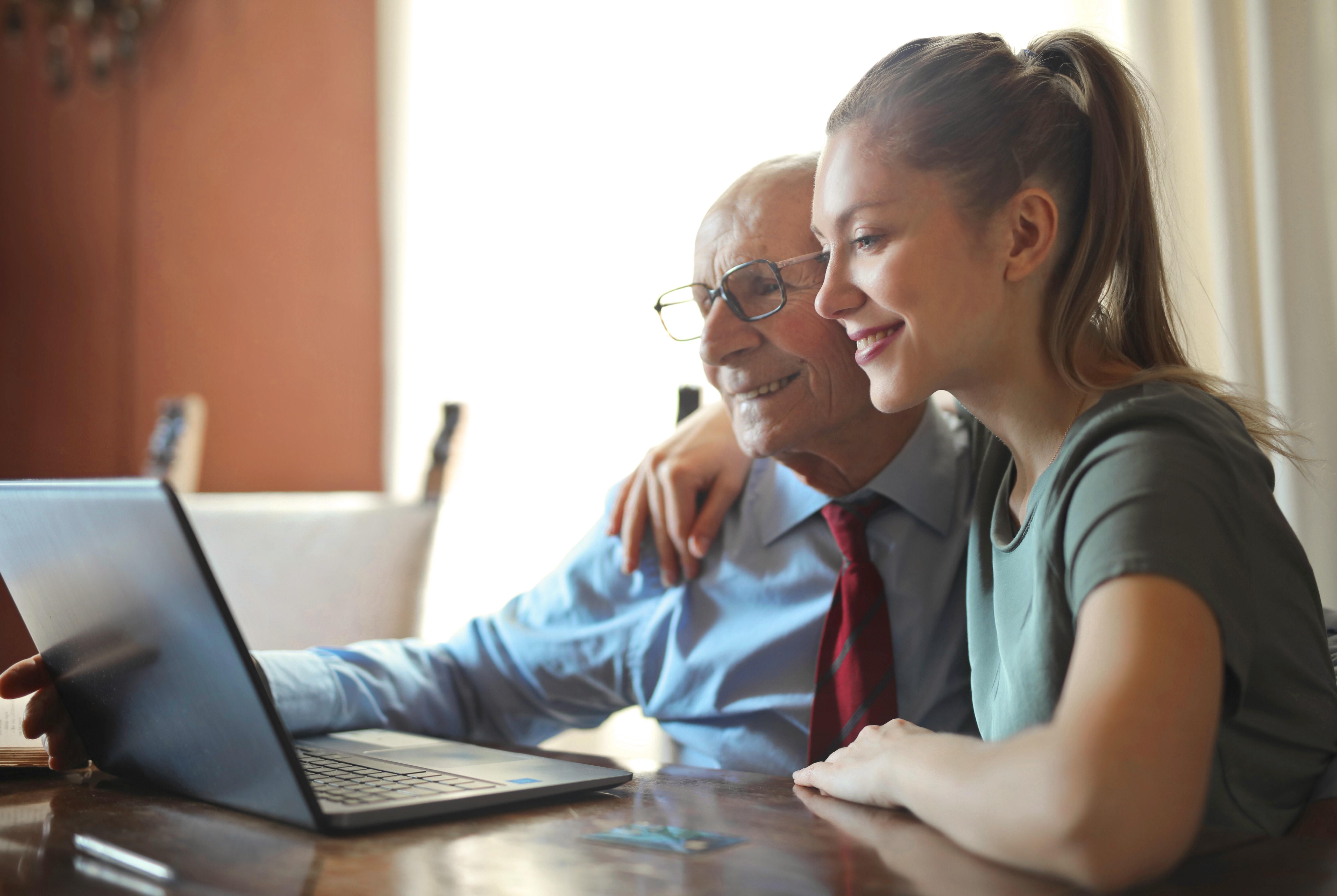 This year has proven to be challenging for most everyone and the holidays aren't shaping up to be any easier. Many of us have been unable to visit with family members due to the pandemic, and this is especially true for those with loved ones in long term care facilities.  When our loved one is living with HD, and we aren't able to be with them in person, connecting with them can be challenging because of speech, motor, and cognitive impairments.   
Occupational therapist and educator, Teepa Snow, along with the Dementia Alliance, have shared ideas for ways to connect over the phone or video chat this holiday season. The following list has been adapted with HD in mind from their article "Ideas for Holiday Connections When You Can't be Together in Person". https://teepasnow.com/wp-content/uploads/2020/12/Ideas-for-Holiday-Connections-When-You-Can.pdf  Their advice on using the following tips is to adapt the activities to suit your loved one's capabilities and keep in mind that the goal is to "create moments of connection, however short they may be". 
Connection Ideas
Consider recording a message that can be replayed. One could record family members sending love and holiday greetings, a meaningful holiday memory, or a reading of a holiday story (the rhythm of 'Twas the Night Before Christmas' especially lends itself for this purpose). Another option would be to read to them live over the phone or video chat. 

Download family or holiday objects to share with them while you are on video chat

 and discuss the pictures with them. You can share your screen with most video chats these days. 

Show holiday-related objects over video chat

(ornaments, decorations, candles). Sing holiday songs together or listen to holiday music together over the phone 

Share holiday-related videos or music videos together over video chat.

Here are links to some examples: 
Engagement Ideas
Sometimes, someone with HD has trouble getting started on a task or conversation.  Below are what Teepa Snow and the Dementia Alliance call "positive action starters". These are supportive cues to engage your loved one and guide them into the conversation. 
Help:

Be sure to compliment his or her skill in this area, then ask for help with something "You are such a good baker; would you please help me decide what I should bake next?" 

 

Try:

 

Hold up or point to the item you would like to use, possibly sharing in the dislike of the item or task "I know crossword puzzles aren't always your favorite, but could we just try this one?" 
Choice: Try using visual cues to offer two possibilities or one choice with something else as the other option (rather than open-ended questions) "Do you prefer cooking or baking?" 
Short and Simple: Give only the first piece of information "It's about time for coffee…" 
Step by Step: Only give a small part the task at first "First, open the envelope." 
Other phrases to try: 
"I remember when…" (note: this is very different than saying "Don't you remember…"
"I remember when I was little, and you baked cookies with me." 
"Tell me about…" 
"Tell me about Christmas Day when you were young." 
"I'm wondering…" 
"I'm wondering what your favorite thing about Hanukkah is?" 
"Sounds like…" 
"Sounds like you're feeling pretty lonely today." 
We hope these ideas and tips are helpful for our HD community to create meaningful connections despite the challenges created by distance or the pandemic.  As always, we at HD Reach are here to provide individualized support for HD individuals and families. We wish everyone a safe and happy holiday.