HD Reach believes volunteer are vital to the success of our programs and improving the quality of life of HD families. We believe volunteers bring optimism and enthusiasm, foster hope, and promote diverse perspectives that bring about enhanced clinical and community based programs.
We are pleased at announce that once a month we'll be highlighting one of our wonderful volunteers here on our website!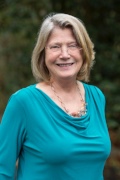 Terry Buehner has been volunteering with HD Reach since 2017 and has always been deeply invested in supporting HD Reach in many aspects of what goes on. Terry is an artist who has her own business creating and selling handmade jewelry and generously donates all proceeds from sales of her jewelry to HD Reach to help fund programs. Terry also serves as the 2019 HD Reach Board Chair, however during her time as volunteer she has helped with organizing the Education Day, lead jewelry classes, planned restaurant fundraisers, and much more.
Before volunteering with HD Reach, Terry taught history at a high school in Vermont with a number of awards and accomplishments during her time as a teacher. Terry's passion for helping others shines through her volunteer work with HD Reach.  
When asked her reason for wanting to volunteer with HD Reach, Terry stated, "Throughout my career as a history teacher, my major focus was to make the world a better place. HD Reach offers me the opportunity to do just that for so many people."