Marie Boubane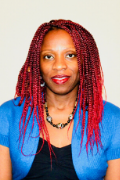 Marie Boubane has recently joined the HD Reach team as Director of Donor Relations. She has more than 15 years raising funds in International Development and Human Rights sectors. Seeing how a life can be transformed by the organizations she works for only fuels her passion to raise funds and make lasting connections between beneficiaries, donors, volunteers and staff. Marie graduated with a BA from Concordia University (Montreal, Canada) and holds a Certified Fund Raising Executive Certificate (CFRE).
Having a son with special needs, Marie has become an advocate for Mental Health issues and has a better understanding of the effects of diseases that are underfunded, silent and/or sometimes invisible on patients and their families. It just feels natural to be part of the HD Reach team.
Marie moved to the Triangle area from Ottawa, Canada with her two children and husband. She enjoys meeting people, traveling, sampling foods for all over the world and relaxing by the beach.