Katherine Sherry, LCSW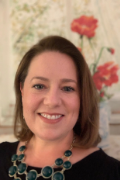 Katherine Sherry, MSW, LCSW, CME4HD certified, serves as Clinical Program Manager for HD Reach. Katherine is responsible for leading, developing, and executing HD Reach's clinical programs of outreach, family services, community building, educational programs, and networking. Katherine has a BA in Sociology from University of Maryland, and a Masters of Social Work from Hunter College. Prior to coming to HD Reach, she worked at facilities in New York, Atlanta, and most recently in Charlotte, serving clients with a variety of needs ranging from mental health issues, geriatrics, long-term care placement, to palliative care. She is also proficient in cognitive and functional assessments.  Katherine has enjoyed learning more about Huntington's disease, and is passionate about providing person-centered help to everyone in an HD family.  
In her spare time she volunteers for Hospice and loves her black and white dog, aptly named Oreo!