Debbi Fox-Davis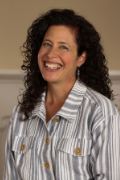 Debbi Fox-Davis has enjoyed a 23-year career leading and developing resources for nonprofits in North Carolina. Her career accomplishments include being the first Executive Director for Dress for Success of the Triangle; raising funding and engaging community supporters to ensure all children have permanent, safe and loving families for the Children's Home Society of NC; raising scholarship and research funds for NC State University and running NC State's Institute for Nonprofits online journal for nonprofit management. 
Debbi has also served as the Assistant Director for Development at Habitat for Humanity of Wake County and as the Director of Development and Marketing for the North Carolina Theatre.
Debbi received her MBA from the Middlebury Institute of International Studies in Monterey, CA and has worked in Taiwan and studied in China. She received her Bachelors of Arts in History from George Mason University (Fairfax, VA). Debbi is CME4HD certified.
After growing up in the Washington, DC suburbs and moving around a lot for college, internships and jobs, Debbi took up residence in Raleigh 24 years ago. Soon after she arrived in Raleigh, she met her future husband and Raleigh has been home ever since. Debbi and her husband, John, have two sons, Spencer (19) and Max (17), a dog, Hobbes and acat, Pippi. She serves on the Board of Wheels for Hope and is an active volunteer with the Dorothea Dix Park. She enjoys running, reading, travelling, cooking and eating.