Crystal Eve Outlaw, MSW, LCSWA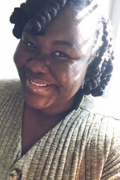 Crystal Eve Outlaw, MSW, LCSWA serves as  HD Reach's Raleigh Area Support Social Worker.  Originally from Pittsburgh, PA, Crystal moved to North Carolina in September 2013. She attended The Pennsylvania State University where she earned a B.A. in Communications and graduated with a Master of Social Work degree with a concentration in Community Organizing and Social Administration from The University of Pittsburgh School of Social Work.
Crystal brings experience with case management, mental health facilitation , teaching, mentoring, and civic/ community engagement to our team. Crystal believes in empowerment and purpose and she strives to engage others in this practice within her various roles. 
 
In her spare time she  enjoys relaxing and spending time with her family.